THE SEXUAL HARASSMENT OF WOMEN AT WORKPLACE (PREVENTION, PROHIBITION AND REDRESSAL) ACT, 2013
Prevention of Sexual Harassment Act 2013 and its compliance is must to know for all Indian organisation.
Long bygone are the days when men used to be the sole bread-winners of a family. Globalization has brought a radical change in the status of women worldwide.
However, with the larger influx of women in the mainstream workforce of India, sexual harassment at workplace has assumed greater dimensions.
Sexual Harassment violates the fundamental rights of a woman to equality under articles 14 and 15 of the Constitution of India and her right to life and to live with dignity under article 21 of the Constitution and right to practice any profession which includes a right to a safe environment free from Sexual Harassment
The Indian legal landscape changed significantly in 2013,Prevention of Sexual Harassment Act 2013 (commonly called PoSH ) became law. PoSH was India's first piece of legislation that specifically dealt with workplace sexual harassment of women.
It is a law to prevent and to provide protection against, Sexual Harassment of women at the workplace as well as redressal of complaints of Sexual Harassment.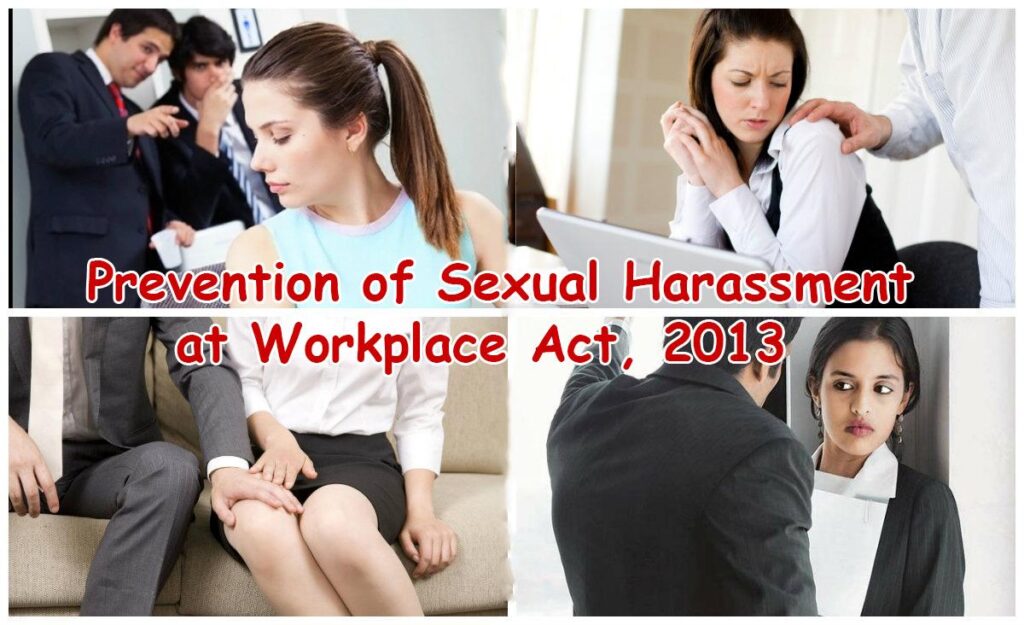 Origin of PoSH/Prevention of Sexual Harassment Act 2013
This Act was essentially derived from the Vishaka Guidelines. The Vishaka Guidelines were certain procedures to be followed in cases of workplace sexual abuse. These guidelines were formulated after the landmark case Vishaka and others v. State of Rajasthan.
This case was brought to the Supreme Court because of the sheer inability of the High Court of Rajasthan to provide justice to Bhanwari Devi who was part of Women's Development Program of the Rajasthan Government.
She was brutally gang raped for stopping a child marriage being conducted . This was a part of her duties as a member of the Development Program to stop any illegal activity conducted against children and women.
This incident revealed the hazards that working women were exposed to on a day-to-day basis and highlighted the urgency for safeguards to be implemented in this regard.
Championing the cause of working women in the country, women's rights activists and lawyers filed a public interest litigation in the Supreme Court under the banner of Vishaka.
The Supreme Court had made it mandatory that these had to be followed by all originations until a legislative framework on the subject has been drawn-up and enacted.
However, the legislative void continued and the Supreme Court in Apparel Export Promotion Council v. A.K Chopra ((1999) reiterated the law laid down in the Vishakha Judgment.
Dr. Medha Kotwal of Aalochana (an NGO) highlighted a number of individual cases of sexual harassment stating that the Vishakha Guidelines were not being effectively implemented. Converting the letter into a writ petition, the Supreme Court took cognizance and undertook monitoring of implementation of the Vishakha Guidelines across the country.
The Supreme Court asserted that in case of a non-compliance or non-adherence of the Vishakha Guidelines, it allowed the aggrieved persons to approach the respective High Courts.
Who is Covered under PoSH/Prevention of Sexual Harassment Act 2013?

Applicability
It's enforceable everywhere in India, and it only protects women.
If a man is a victim of sexual harassment in the workplace, he isn't protected by the provisions of the PoSH Act. He must depend on company policies that prohibit harassment of any nature.
Covered Bodies
The Prevention of Sexual Harassment Act 2013 applies to both the organized and unorganized sectors in India. It applies to government bodies, private and public sector organizations, non- governmental organizations, organizations carrying out commercial, vocational, educational, entertainment, industrial, financial activities, hospitals and nursing homes, educational institutes, sports institutions and stadiums used for training individuals and also applies to a dwelling place or a house.
The law provides that every employer with more than 10 employees must constitute an Internal Committee (IC) within the organization to handle complaints of Sexual Harassment. Both organized and unorganized sectors are covered by this Act and non-compliance of any directives will lead to consequences.
How PoSH defines the Aggrieved Party
The Act does not require the woman to be an employee; a customer or a visitor who feels sexually harassed at any workplace can claim protection under PoSH Law.
The definition of an 'employee' under the Act is also quite wide and covers:
Regular, temporary, and ad hoc employees.
Individuals engaged on a daily wage basis (either directly or through an agent)
Contract workers, probationers, trainees and apprentices.
An employee under this definition could be working with or without the knowledge of the principal employer, whether for remuneration or not. It also applies to workers who are utilised on a voluntary basis, and the terms of employment could be express or implied.
What actions constitute Sexual Harassment?
Sexual Harassment is constituted of unwelcome acts or behaviour (whether directly or by implication) related to implied or explicit promises and threats of preferential or detrimental treatment in either present or future employment and creation of an offensive environment for women.
Indian laws refer to such unwelcome acts or behaviour being any of the following
Physical contact and advances;
Demand or request for sexual favours;
Making sexually coloured remarks;
Showing pornography;
Any other unwelcome physical, verbal or non-verbal conduct of a sexual nature.
Serious or repeated offensive remarks, such as teasing related to a person's body or appearance.
Inappropriate questions, suggestions or remarks about a person's sex life
Displaying sexist or other offensive pictures, posters, mms, SMS, WhatsApp, or e-mails.
Invasion of personal space (getting too close for no reason, brushing against or cornering someone).
Persistently asking someone out, despite being turned down.
Stalking an individual.
Controlling a person's reputation by rumour-mongering about her private life.
The 'Extended Workplace'
The Act utilises the concept of the 'extended workplace.' In addition to the office of the employer or employee, any place visited by the employee arising out of or during the course of employment, including transportation provided by the employer for the purpose of commuting to and from the place of employment, will also constitute a workplace. Further, social settings endorsed or financed by the employer are also considered a workplace under P0SH law. Harassment through social media especially in wake of work from home option also applies.
Establishing a mechanism to address PoSH-related complaints
If a business wants to be PoSH compliant, it must have a mechanism (or channel) for employers to address complaints relating to sexual harassment.
This channel is known as the Internal Complaints Committee (ICC) or Internal Committee (IC). If a workplace has fewer than 10 employees, the law requires the constitution of a Local Committee (LC)
Conclusion
Prevention of Sexual Harassment Act 2013 was notified in December 2013. This law has been a catalyst in creating awareness on the issue of sexual harassment at the workplace. It has also given huge confidence and support to female employees to report any adverse incidents. Progressive employers on their part have gone to great lengths to implement the law, not just in form but also in spirit.
Shivani Bose is a PoSH certified trainer and has been instrumental in implementing PoSH across industries. She is an external panel member of ICC for various companies. She has conducted several workshops on Gender sensitization and PoSH awareness and had counselled several clients facing mental wellness and gender bias issues.
Proud HR Services is an end-to-end service partner for the implementation of Prevention of Sexual Harassment (PoSH) legal compliance. We partner with companies on case redressal and policies to proactively build safer work cultures and sexual harassment (PoSH) trainings either in person or virtually. We will establish and clarify the roles and functions of each member. We also provide training for all employees and ICC. We also help in empanelment of external members of IC.
For more details on diversity, inclusion and prevention of sexual harassment, pls contact at info@proudhr.com
Email Us
info@proudhr.com
Call us
+91 78744 62266